Implant-Supported Dentures - Washington D.C.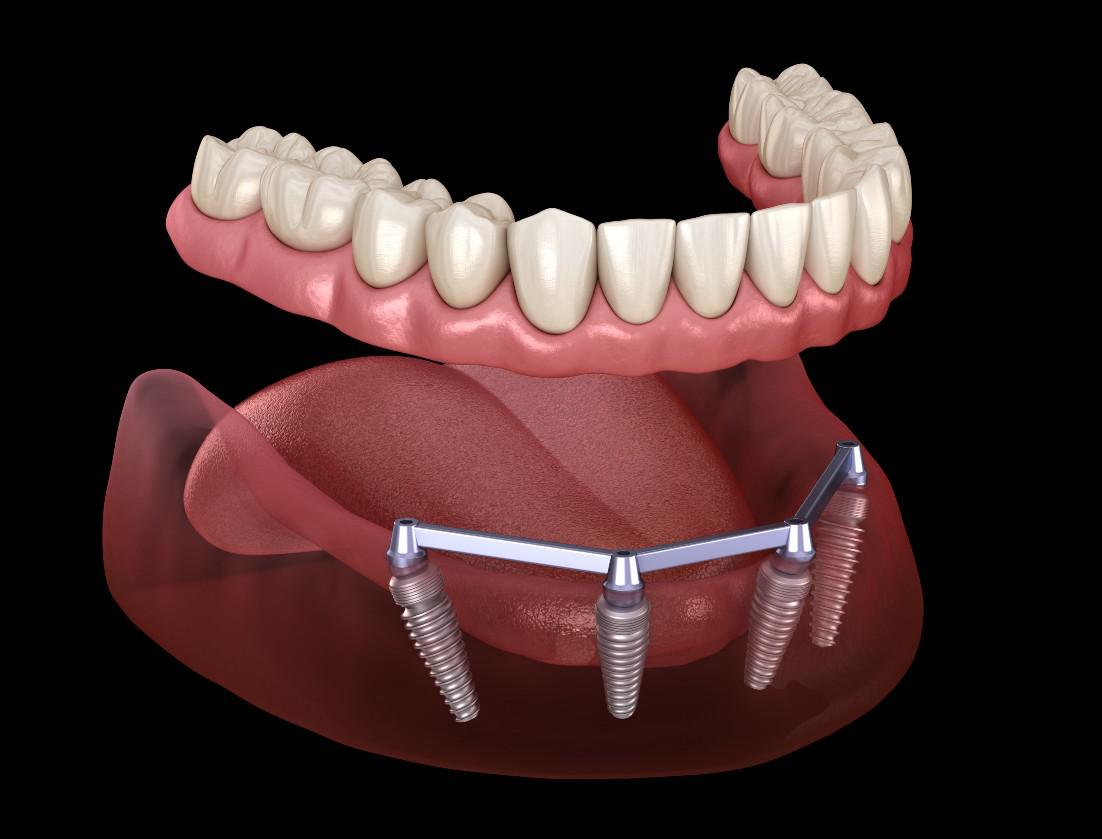 One of the biggest concerns every adult has as they age is the likelihood of losing more teeth. Diet and lifestyle habits soon show up on our teeth, and as we begin to lose teeth, we need to find safe and effective choices to ensure that we keep our smile intact or bring it back to its former glory. This is where implant-supported dentures can be an excellent choice.
Denture implants are made to look, feel, and act like natural teeth. This doesn't just help preserve the aesthetics of your mouth, but it will maintain the structure, the health, and as a result, your happiness.
Full Service Implant-Supported Dentures
Implant-supported dentures (or denture implants) are a type of denture supported by and attached to dental implants. An overdenture is classed as a partial or complete denture that either sits on top or is attached to the underlying structures or dental implants. These dentures can be removable and can also improve the function and retention of your teeth in comparison to conventional dentures, which could become unstable over time.
When we determine if you are a good candidate for an implant, there are two types of denture implants to choose from:
Bar-retained is where a thin metal bar is attached to a number of implants in the jawbone.
Ball-retained, also known as stud attachment dentures, usually contain sockets that will fit onto connectors on the implants which are shaped like a ball.
Specialized and Personal Care for Your Denture Needs
At the Capital Oral & Facial Surgery Center, Dr. Rostami and the team aim to make the process as transparent as possible, beginning with our initial consultation. This is where we determine how the surgery is performed based on your unique needs. While the procedure could occur over a number of months, this is the best approach to guarantee we give you the attentive care you need.
The main benefit of implant-supported dentures is that they can provide reliable support to the structure of your mouth. In comparison to traditional dentures, where there is the potential for slippage or jawbone damage, implant dentures are placed in the jawbone at the front of the mouth making for a more stable structure.
A Service That Supports You From Beginning To End
The initial consultation will consist of an exam to review your dental history, X-rays to create impressions of the teeth and gums, and a CT scan to identify how much bone is available. This is where a temporary denture is created to use until the denture implants are in place. The procedure usually consists of two sessions, where the patient undergoes localized anesthetic and the implant is placed after drilling a hole in the relevant area.
After this, there is a waiting period of between 3 and 6 months as the bone implants attach. The second surgery involves placing a healing cap placed on the head of each implant, which enables the gum tissue to heal. These are in place for up to 14 days before being replaced with abutments. The metal bar is then placed on the abutments and is secured in place to give you that functional and full smile you've wanted for so long!
Great Quality And Superior Results
After the procedure, you need to maintain regular appointments with the dentist to guarantee that the dentures are in place. This is essential as Dr. Rostami will check the gums and dentures to ensure you are not running any additional risks, such as loose teeth or breakages. This is why, in addition to the regular appointments, you maintain good oral health.
Caring for dentures is very similar to looking after natural teeth. It's important to brush twice a day to remove any food particles and prevent staining, but dentures also require some extra support, including rinsing them out and brushing every surface to avoid extra damage. It's also important to clean your mouth thoroughly to remove any plaque so you minimize any oral irritation. Additionally, you need to make sure your dentures are in a safe place away from water, as this will prevent them from warping and will serve your needs for much longer.
It's Time To Get Back Your Confidence
Dentures provide so many benefits for people missing their natural teeth. Anybody who has missing teeth can tell you how much of an impact it can have on their confidence. Denture implants can help you to regain confidence in your appearance and in a number of other ways. As dentures are created for you, you can eat and talk as you would normally without any discomfort. As dentures can mimic natural teeth and are made for your mouth, having dentures in place can reduce your risk for oral health issues, such as gum disease. Implant-supported dentures provide so many benefits, and if this is what is missing from your life, you can get in contact with us at the Capital Oral & Facial Surgery Center to book an appointment and see what we can do for you.
One of the biggest concerns many people have is the cost. Finding affordable dentures and implants prices can be difficult, which is why we provide an amazing offer for new customers. Our initial consultation, with 3D X-rays, exam, and consultation costs only $99! If you are looking to take your oral health to the next level, it's time to get in contact with Dr. Rostami and the team.
A Regional Expert That Can Help You Today
We provide a dedicated and attentive service to you and your family. If you need any support and advice for implant-supported dentures you can get in contact with us. Put simply, implant-supported dentures provide a beautiful, stable smile, additional reliable support for your mouth, and prolonged oral health that will benefit you for years to come!
Dr. Rostami has years of experience in helping patients to achieve confidence and regain that winning smile again. We are a dedicated service that delivers results unlike any other in Washington DC, Maryland, Virginia, and surrounding areas. Contact Capital Oral & Facial Surgery Center at (202)296-6600 to book an appointment, and let's get you smiling again!