Dental Implants - Washington D.C.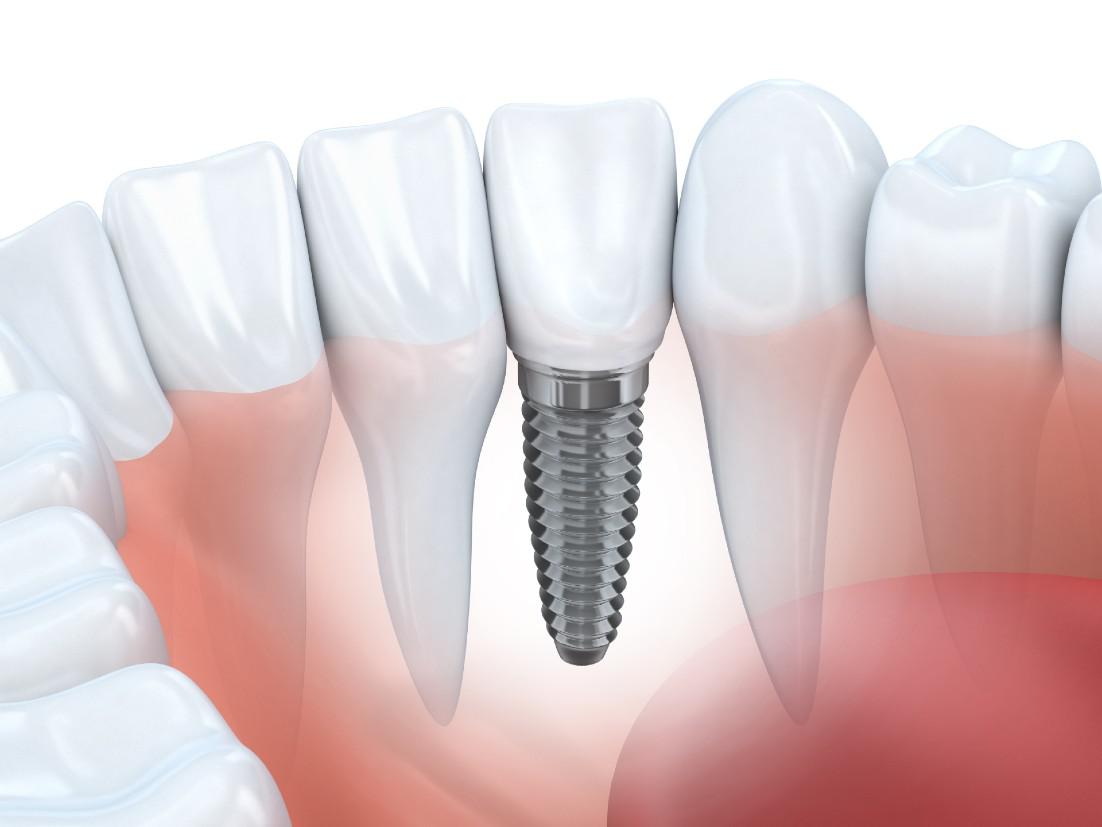 Most patients who have lost teeth due to injury, advanced decay or periodontal disease are good candidates for dental implants. If you're considering getting dental implants in Washington D.C., you may be wondering what the process involves and what to expect. At Capital Oral & Facial Surgery Center, our DC implant dentist has extensive experience in dental implant procedures and can provide you with the care and support you need. Dr. Rostami will work with you to determine if dental implants are right for you. Our dental practice uses the latest equipment and technology to ensure that you receive the best dental care possible.
What Are Dental Implants?
A dental implant is a small titanium screw that we surgically embed into the jawbone. Because the implant is placed underneath the gum tissue, it acts as the root component of a missing tooth. After a brief healing period we will place an abutment.
The abutment is a support structure that links the implant screw to your restoration. A single implant is usually attached to a porcelain or zirconia crown. If you are missing multiple teeth we will place multiple dental implants to support a fixed partial or complete bridge.
Are You A Candidate For Dental Implants?
As an oral surgeon, Dr. Rostami is uniquely qualified to determine if you are a candidate for dental implants. During your initial consultation, we will perform a comprehensive examination using advanced diagnostic tools, such as x-rays, CBCT scans, and digital impressions. By the end of your appointment, you will know whether or not implants are right for you.
Most patients qualify for dental implants. However, we may need to address bone deterioration or periodontal disease before we move forward with treatment. We offer bone grafting and other preliminary procedures to ensure the success of your implant.
Our Washington D.C. Dental Implant Procedure
The dental implant procedure is usually broken up into two minor surgeries. During the first surgery, we will open the gum tissue and place the implant screw. Once the implant is in place, we will suture the incision. The number of implants we place depends on the type of restoration you need.
Over the next six months or so, the implant and your bone will fuse during the process of osseointegration. Osseointegration is a vital part of the healing process because it produces a bond powerful enough to support a restoration against the strongest forces of your bite. Once osseointegration is complete, we will place your abutment and later the restoration. In some instances, we may be able to place the abutment at the same time as the implant post.
Our dental implants services include:
Single Tooth Implant
Multiple Teeth Implants
All-on-4 Implants
Implant-Supported Dentures
Sinus Lift
Bone Regeneration
Bone Grafting
Platelet Rich Plasma
Benefits of Dental Implants
There are many benefits of dental implants, including:
A natural look and feel: Dental implants are custom-created to look and feel like your natural teeth.
Improved oral health: Dental implants do not require the surrounding teeth to be altered to support them, as is the case with dental bridges. This helps to preserve your natural dental health.
Improved speech: Dental implants are anchored in the jawbone, so they will not slip or move around in your mouth as dentures can. This improves your ability to speak clearly.
Improved comfort: Dental implants do not require adhesive or removal; they simply sit in the jaw as your natural tooth would. They also provide stimulation to the jawbone, which helps to keep it healthy and strong.
Improved self-esteem: Dental implants can give you back your smile and help you feel more confident about your appearance.
Visit Our Washington D.C. Implant Specialist
If you are searching for high quality dental implants in Washington D.C., we encourage you to contact our office to schedule a consultation today!